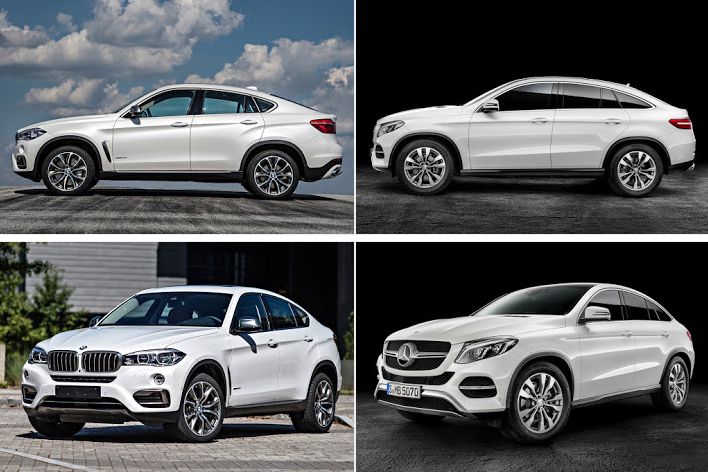 Both the all-new 2016 Mercedes-Benz GLE and BMW X6 coupes are part of a niche segment within the luxury realm. With sloped roofs and many characteristics of utility vehicles, these wedge-shaped coupes are incredibly attractive to certain factions of drivers.
While BMW was the first to come out with what it calls a Sports Activity Coupe, Mercedes-Benz is entering the class for the first time in the 2016 model year with the all-new 2016 Mercedes-Benz GLE Coupe. While a number of variations within the GLE-Class range will likely become available, the first iteration set for availability is the 2016 Mercedes-Benz GLE 450 AMG Sport. To see how it stacks up against one of the staples of its niche vehicle class, we're comparing the the 2016 Mercedes-Benz GLE vs. 2015 BMW X6. More specifically, we'll look at the 2016 Mercedes-Benz GLE 450 AMG Sport vs. 2016 BMW X6 xDrive35i.
Both models get their power from turbocharged V-6 engines, however the GLE 450 AMG Sport is the more powerful of the two with output ratings of 362 horsepower and 384 pound-feet of torque. The Mercedes-Benz GLE 450's engine pairs with a nine-speed automatic transmission with manual override steering-wheel-mounted paddle shifters.
The BMW X6 xDrive35i utilizes a turbocharged 3.0-liter turbocharged V-6 capable of 300 horsepower and 300 pound-feet of torque. In addition to coming up short in engine output, it also loses a gear on its transmission with an 8-speed automatic unit.
Differences between 2016 Mercedes-Benz GLE and BMW X6
While the power ratings of the two utility coupes favor the 2016 Mercedes-Benz GLE, efficiency ratings are not yet available for the new GLE Coupe. The 2015 BMW X6 xDrive35i, on the other hand, is rated for 18 mpg in the city and 27 mpg on the highway.
In terms of size, the Mercedes-Benz GLE and the BMW X6 are quite comparable. The X6 has a slightly longer wheelbase, but the GLE's body is nearly an inch longer than its counterpart. When it comes to actual vehicle dimensions, the biggest difference between the two is in their height, with the GLE standing 68.1 inches compared to the 66.5 inches of the X6.
Although comparing specs, dimensions and capabilities is a good way to determine some of the key differences between the 2016 Mercedes-Benz GLE and the 2015 BMW X6, the best way to determine which vehicle is right for you is behind the wheel.
See Pictures After The Cut......