In Nigeria, we have so many cars on the road, ranging from Toyota, Hyundai, BMW, Benz etc, but like me and some other people will agree, the cars wey strong and common pass na Benz and BMW. Anyone shopping midsize luxury sedans almost always starts in two places: Mercedes-Benz and BMW. This common starting point has its rationale, as the BMW 5 Series and Mercedes-Benz E-Class have long ruled the segment with Audi and Cadillac following closely behind (maybe make we compare Cadillac and Audi sef).
And as you all know, I'm a car lover and I love Benz diiiiie, and I will always choose a Benz over a BM but as this blog is not personally mine but made for the public, I have to respect other people's opinion too so since there has been so many arguments on my Instagram page over which car is the best, I decided to do a review on both cars, and since ive done a review on the S Class and the 7 Series, I chose to do one on the 5 Series and the E Class.
Even in luxury segments, there is always an entry-level option, and for the Mercedes E-Class and BMW 5 Series these are the
E350
and
528i
respectively. The 5 Series is slated for some mild updates, but a freshly revised E-Class is already available.
So, which of these luxury sedans comes out on top: the 528i or E350?
The E350
The Mercedes-Benz E350 can trace its roots all the way back to the 180 of 1953, also called the Ponton because of its pontoon-like styling. Many things have changed since then, but not the E-Class's international reputation for being as durable as it is luxurious.
Currently in its eighth generation, the E350 comes in sedan, coupe, cabriolet and wagon variants, some available with diesel engines. The wagon features 4MATIC as standard equipment; the all-wheel drive system is optional on the E350 sedan and coupe.
The E350 rolls into dealerships with an all-new front end that is sleeker than the previous model and some slight, but necessary interior revisions. The E350 also gives buyers the opportunity to choose between a more classic look with the E350 Luxury or a sportier look with the E350 Sport at no additional cost. Luxury features are plentiful in the E350, including: 17-inch wheels (18-inch on Sport models); LED headlights and taillights; 14-way power front seats; and an eight-speaker sound system.
The E350 packs a meaner punch than the 528i with its 3.5-liter V6 that produces 302 horsepower and 273 foot-pounds of torque. This translates to a 6.5-second 0-to-60 mph sprint, plus acceptable fuel economy ratings of 21 mpg city and 30 mpg highway.
E350 Booty
While German luxury cars still maintain a performance edge on Japanese and America competitors, their lead isn't what it used to be. The BMW 5 Series once reigned supreme as the midsize sedan of favored by serious drivers: Car & Driver magazine named it to six straight 10Best lists between 1997 and 2002.
And while the entry-level 528i is no longer the obvious choice in its class, it remains a solid choice. A turbocharged 2-liter four-cylinder engine generates 240 horsepower delivered to the rear wheels through an eight-speed automatic transmission. And it's available with all-wheel drive
Though its design is a bit long in the tooth, the 528i's looks remain iconic in the industry and it simply oozes luxury from every pore. BMW also puts a lot of stock in developing luxury cars that are still fun to drive, so the 528i comes standard with Driving Dynamics Control, which changes the settings of the suspension, throttle, steering and transmission, depending on the setting the drive chooses.
In the engine compartment, BMW installs a 2-liter four-cylinder engine that nets this midsize luxury ride up to 34 mpg on the highway. Don't let the 528i's fuel-sipping characteristics fool you, as it is still a performer with 240 horsepower that helps sprint it to 60 mph in just 6.4 seconds. The optional xDrive all-wheel-drive system simply sweetens the pot.
BMW 528i
BMW 528i Backview
528i Cockpit
528i Backseat
E 350 Cockpit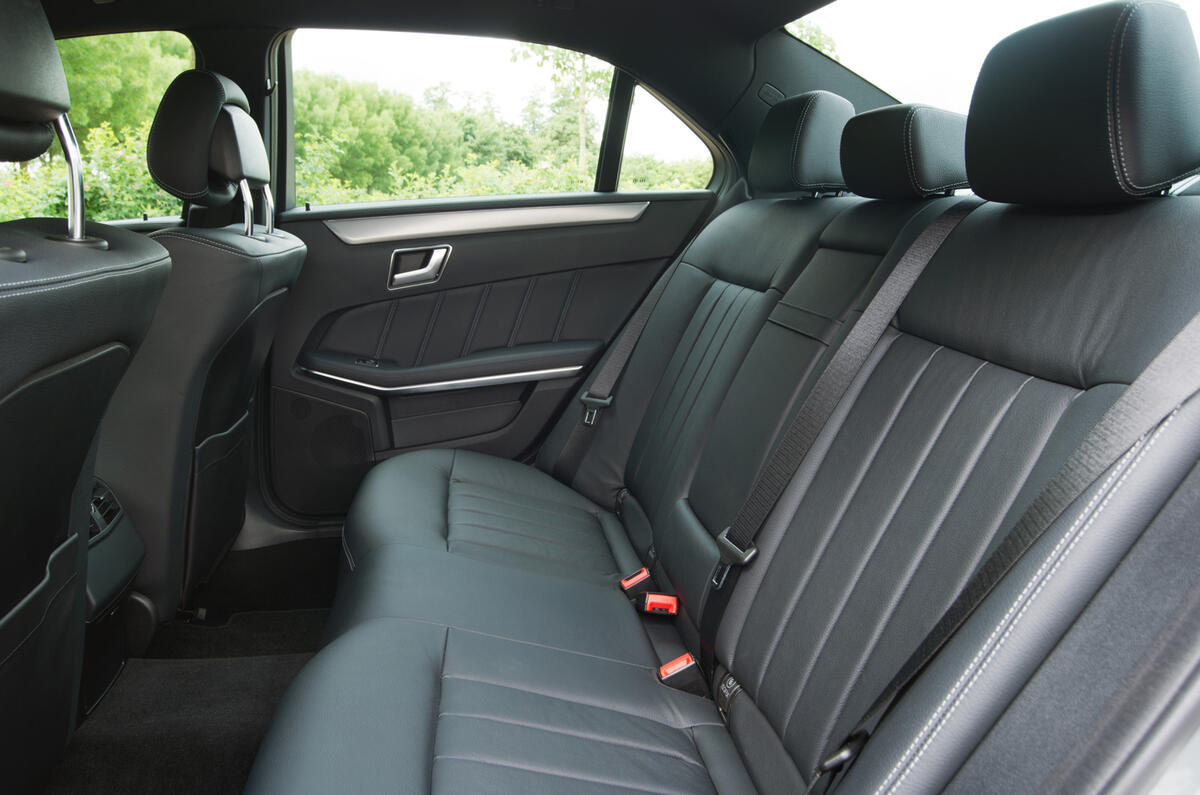 E 350 Backseat
Exterior and interior styling
Both cars look disappointing to me tho. The Mercedes is odd, the BMW just bland and unimaginative.
Inside the 528i BMW has made useful progress, and whether its cabin is preferable to its rival's depends on your priorities. Certainly it works much better: its switchgear is more lucidly arranged, its dials are clearer, the new iDrive controller clearly superior to Mercedes' rival Command system.
What the BMW interior lacks is a sense of occasion. Less coherent it may be, but the way the E-class deploys its wood and leather and subtle but extensive use of chrome has a class missing from the BMW.
The real news is how close the BMW now comes to offering E-class interior space; the E-class's advantage on leg room has been much reduced. The Five is fractionally smaller all round, but for the first time it can seat four large adults in comfort.
Driving
Here, it is a hideously close-run contest, determined by nuances here and there and a presumed order of priority that some customers may not share.
Most importantly, both are fine cars to drive fast or slow, in a straight line or through some bends.
The Mercedes can't match the BMW engine objectively, because its 0-62mph time of 6.9sec is 0.6sec off the 528i's benchmark. Instead, it contents itself with being quieter, smoother and, as a result, more sophisticated, while still being plenty swift enough to offer all the performance most buyers will ever want (or indeed use).
The BMW is easier to drive, requiring provocation few will dole out to unsettle it. The Mercedes is more softly sprung and rolls more, offering a little less grip. However, it has better steering and - more surprisingly - it's actually better balanced too.
The E350 certainly offers better ride quality, but no-one with standard suspension on their car is going to return the 5-series complaining the ride is too stiff. Over long distances some owners may prefer the taut feel of the 528i, as well as its better fuel consumption (45.6mpg with auto box v 40.9mpg) and lower CO2 emissions (160g/km v 181g/km). Even so, the Mercedes is quieter, especially in town or pressing on down a country road.
Who Wins
The BMW is a more complete car than the old model, and if that means it's lost a little of the old enthusiasm, some would argue that this is a price worth [paying for its broader base of talents.
But the Mercedes has rediscovered the values of quality, comfort and luxury. The result is two gloriously different cars.
Truth is, buyers will probably choose on which skill set is more appropriate to their desires and circumstances.
But, forced to choose, i'd simply go for the Mercedes, why? because its a Mercedes, Gbam.
looking at the reviews and pictures, which would you go for?